BECOMING A CAREGIVER
You or someone you know may have never considered becoming a care giver before and you've probably been a caring person all your life? You might have just never realised it before!
The following information will provide insight into the training and qualifications needed to become a caregiver.
What training does a caregiver need?
Above all Comfort Keepers wants health care assistants who are kind, compassionate, caring and competent. If you have these traits, we have the full training required to become a caregiver.
Before starting as health care assistants, our applicants will go through our three day induction programme, during which they are assessed on the qualities above, as well as their timekeeping and communication skills. Only candidates who can demonstrate these skills during the induction course will progress through to the next stage of the recruitment process.
Health care assistants are required to understand Comfort Keepers policies and procedures and values as part of their training. Our induction programme takes the carer through these policies and procedures and explains how they play out in real-life situations.
In the training, applicants will need to become competent in the skills of personal care, such as washing, dressing, toileting as well as supporting a client during meal times. Again, these skills are covered in our induction programme where carers have the opportunity to practice daily routines in a simulated environment.
The third day of induction training focuses on manual handling to ensure that our caregivers perform manual handling moves properly to protect both their own safety and the safety of the person they are looking after. It also means that you are less likely to be injured as the health care assistant and will be able to care for much longer too.
We are confident that we provide health care assistants with excellent, thorough training when they are starting out with us which equips the carer with the skills and knowledge they require to provide the highest quality care to our clients.
What qualifications do you need to become a caregiver?
As per the HSE Tender guidelines, all home care workers must have achieved, at a minimum, a QQI Level 5 certificate in Care Skills and Care of the Older Person and be working towards achieving a major award in healthcare. Within these first two modules, you will learn in detail about the skills and knowledge required to deliver quality care to elderly and vulnerable people. At the end of the course, you will be assessed through assignments and skill demonstrations.
Comfort Keepers learning & development department is a QQI accredited training centre and so can offer you these modules free of charge, if you are working with Comfort Keepers.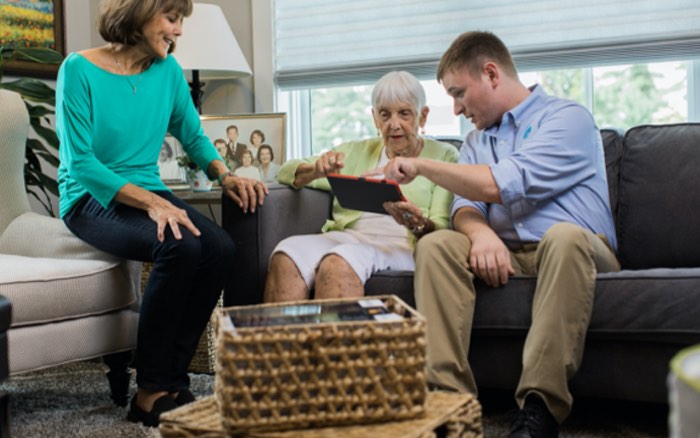 What is a QQI level 5 award in Healthcare?
A level 5 major award is a qualification. Level 5 is the academic level that is equivalent to a Leaving Certificate qualification.
QQI modules are each given a credit rating. The majority of modules that are available at level 5 equate to 15 credits, meaning if a person passes a module at level 5, they will have obtained 15 credits. To achieve the full qualification, a person must achieve 120 credits which works out at completing 8 or 9 separate modules, depending on which ones you choose to complete and their individual credit value.
There are a number of major awards that relate to healthcare. The major awards in healthcare that are offered by Comfort Keepers are Healthcare Support and Community Health Services. For each major award, there will be some modules that are mandatory and some that are elective choices.
You will find this information for Healthcare Support here: https://qsearch.qqi.ie/WebPart/AwardDetails?awardCode=5M4339 and for Community Health Services here: https://qsearch.qqi.ie/WebPart/AwardDetails?awardCode=5M4468
The modules offered by Comfort Keepers are listed below:
Care Skills
Care of the Older Person
Communications
Work Experience
Care Support
Care Provision & Practice
Intellectual Disability Studies
Palliative Care Support
Safety & Health at Work
Life at Comfort Keepers
Would you like to know what it's like to work with Comfort Keepers?