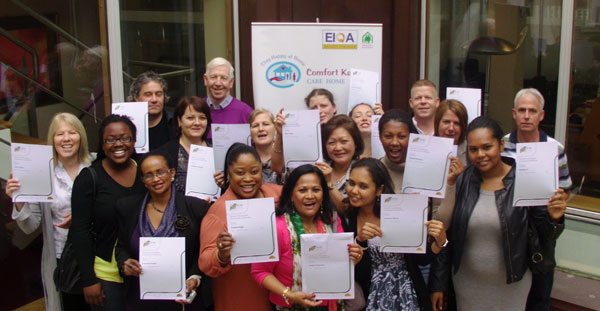 'What do you want to be when you grow up? Did you ever consider you could make homecare your career?
How many times were you asked that question as a child? Well-meaning aunts and uncles would ask me that question, some to make conversations, others because they were genuinely interested. Do many of us know what path we want to follow when we are a child? What adults might be able to establish is what we are good at. Are we naturally caring as children? Are we good with other people? Do we prefer to work with animals? Or do we prefer our own company and that of books to being with people? Do we like the great outdoors and a sense of adventure or are we more cautious? It's not just about the academic subjects we enjoy, it's also about our natural abilities and gifts.
Outdated Advice
Career guidance in secondary school seemed to concentrate on identifying a particular occupation and then providing information on the steps to reach that goal. Becoming a nurse or a teacher seemed to dominate in the career advice for girls and it seemed a reasonably straightforward path, get the academic qualifications required and go to university or a nursing college. It was almost expected that the same career path would be followed for the duration of the working career, just like people often worked in the same firm for forty years.
The reality, for many of us, is very different. We may opt for one occupation to find that other opportunities crop up or as we want lifestyle changes, we opt for change. Teachers may change from their roles as secondary or primary school teachers, teaching in the classroom, to research or writing or business development. They may even change their teaching subject and change to teaching adults. All of the Community Care Managers at Comfort Keepers had careers and many years of experience in social care or nursing. Maybe many of them expected to stay working in hospital wards when they started their career but for one reason or another, deviated slightly.
Different Paths
For those of us who didn't go to university at 18, life can be even more changeable and diverse as we take different routes to where we want to go. The stage of life can affect things too. Parents of young children sometimes prefer to leave work for a few years and devote their time to looking after their children, others stay working long hours when the children are young and sometimes decide to take a step back when the children start school so they can provide the after school cares themselves. Some parents opt for job sharing, others work full-time constantly. The situation for everyone is different but it seems that people are often surprised at the changes in their own outlook on life, how it changes with each decade.
What's best for you?
I was speaking recently to a very successful business woman, she had achieved a very senior role in the company she worked for, worked long hours and had dreams of setting up her own business. She has two young boys and they were in an excellent créche with her mother helping out for occasional childcare. However, she had reached the stage when she felt burnt out and had set up a small business on the side which had started as a hobby.
As parents, she and her partner wanted one of them to reduce their hours so the boys would be able to go home after school and not be in childcare during their school holidays. As she had set up the small business and it was performing well, they decided that she would be the one to leave full-time employment with all its benefits and work from home. The small business is doing well and she sees herself continuing in this mode for the next 5 years.
It has happened in Comfort Keepers that people working as carers have decided that they would like to progress in their careers. We have had carers that have gone to become nurses and occupational therapists. Working as a carer convinced them that they were right for this role and could go further. It's more than just a job now. You too can make homecare your career.
At the end of the day…
No matter what decade of your life you are in, you can work as a carer. It is an extremely rewarding and satisfying career for those who embrace it. Can work full-time or part-time. You do need a natural ability to be caring. You should enjoy working with people and spending time with them. Making a difference in someone's life should give you a good feeling. You should feel comfortable helping people with their personal care.
Connect with us
Firstly: To begin starting care for your loved one or find out more about Comfort Keepers, click here.
Secondly: To join our incredible award-winning team, you can apply now by clicking here or emailing your CV to recruitment@comfortkeepers.ie. Make homecare your career.
Lastly:
Every person has an inner spark. It's something age and illness cannot take away. That's why, at Comfort Keepers, we go beyond daily care needs to nurture those unique qualities. We wish to bring about a sense of hope, connectedness, purpose, and most importantly, joy. From 1 hour of care per week to 24/7 complex care, Comfort Keepers' clinically-led team have got your care needs covered.
More than just a job. Make homecare your career with Comfort Keepers today.